Sir Basin is one of the many monsters added in the 1.2 Update of Elemental Assault.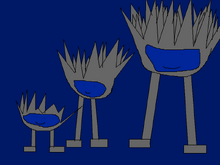 Leveling
Edit
Sir Basin evolves at level 7, 15, and 25. This evolution timing is shared by all other Rare monsters.
Sir Basin starts off knowing two attacks, Spiky Charge and Rock Charge. At level 5 it learns Watergun. At level 10 it learns Healing Basin. At Level 15 it learns Damage Basin. At level 20 it learns Speed Basin. And, finally, at level 25 it learns Multi-Stun Basin.
Description
Edit
Sir Basin is a might fine fellow who enjoys croquet, tea, and crumpets while wearing a monocle. But when he fights, he supports his team well, powering up and healing them.
Other stats
Edit
Rarity level: Rare
Gold if Sold: 7K
Cost in-shop: 15K
Elements: Earth/Water